Can Solar increase the value of my home?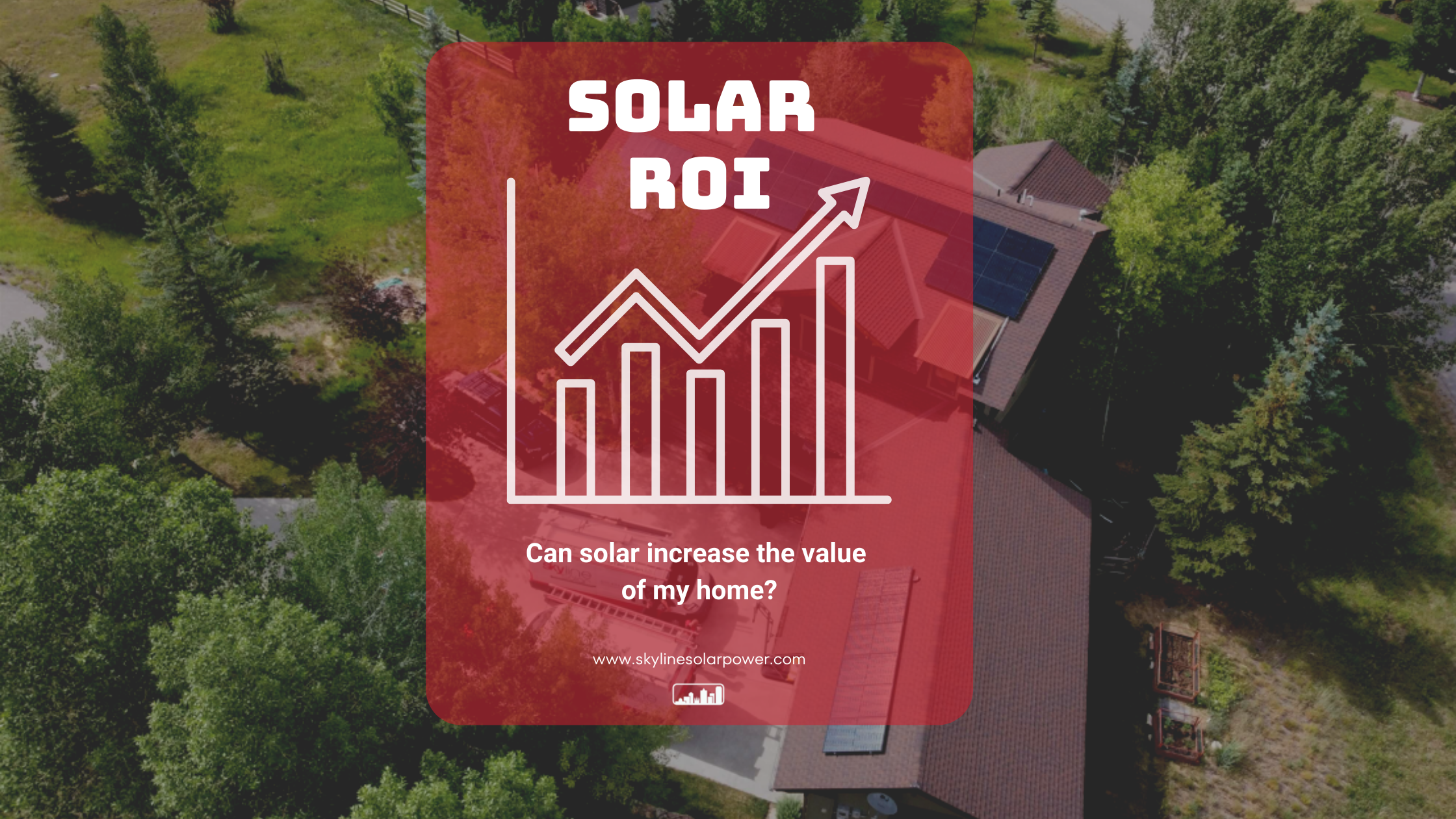 It's a logical question, you're speaking with a representative of a solar company and you start doing the math in your head: "If this is an investment on my home, will I see the return on that investment when I sell my house?"
Like most things pertaining to home improvements and their relation to the home's value, there's no exact figure a seller can rely on every time. There is a large enough sample size that we can reasonably estimate that a kitchen or bathroom remodel will likely yield a return close to its cost, but there are exceptions.
Will solar increase the value of my home?
The Short Answer
Almost certainly yes if you own or finance your system. When it comes to how much, it depends.
The Long Answer
It depends on several factors which can help or hurt how the home's value is affected by your solar panels.
At Skyline Solar, we have over one thousand solar installations and many of their owners have either moved or had their homes refinanced. We've seen many of their home values increase at a dollar for dollar amount of what their solar installation cost before their solar tax credit, which is often worth thousands of dollars.
So we've seen cases where a family decided to refinance their home to get a better interest rate on their mortgage. They paid about $24,000 for their system and received a tax credit for 26% of that cost or about $6,000. When the value of their home was appraised, their solar equipment was noted on that appraisal and the value it added to the home matched the total cost of the system. So in this case, the homeowner was able to net that $6,000. This may not be the case for everyone, but we've seen situations similar to this several times.
Every home buyer is different and may perceive the value of the panels differently. Some may see value in buying a home that reduces their carbon footprint or may be interested in the energy savings over the lifetime of the solar array. In some cases, buyers think homes with solar are more likely to have other amenities like smart home features or heated floors.
Other buyers may see solar on a home as a novelty, but not worth shelling out more money over. The key to overcoming a buyer who lacks interest or doesn't understand the benefits of buying a home with solar is education, which leads right into another key element to getting maximum value out of the home.
A good realtor is the key to getting the best equity return on your home for a whole host of reasons. If you are concerned about getting the maximum return on your solar investment, seek out a realtor with experience selling homes with solar. They will understand how to effectively communicate the value of the panels to buyers. They will be proactive about marketing your panels as an asset by doing things like capturing drone footage of your panels and also communicating the energy savings to a potential buyer in simple terms.
So how much should you expect a solar system to bring in value to your home? Once again, it depends. The most comprehensive study we have to date on the subject was published in April, 2016 by Zillow. You can read their article on the subject here. Your location has A LOT to do with the return you will receive on your panels. Zillow's study concluded that as of 2019, homes with solar sold between 2.7% and 5.4%, with the national average at 4.1%.
To put that figure into real numbers, let's look at our imaginary home buyers Stan and Jan's home which they bought for $320,000. If they put solar on their home and then sell it, discounting all other forms of equity, they would sell for $333,120 assuming the sale follows the national average, or their original $320k plus $13,120 in equity. Unfortunately for Stan and Jan, most solar arrays can easily cost more than $13,000, so even after their federal tax credit, they will probably not get a full return on that investment.
The 4.1% figure is extremely general, and it would be advantageous to speak with an experienced realtor in your area to get a better idea of what to expect in your region. Here are videos of realtors speaking on the subject specifically for their region:
What does this mean for me?
It means that, although the jury is still out for a consensus, installing solar panels on a home is not unlike many home improvement projects. Except in specific circumstances, you should get solar because you want it.
A reputable solar installer will not only take your roof into account when designing your system, they will also consider your habits and how much power you use, so purchasing solar with the intent to sell it to an unknown buyer doesn't make a lot of sense.
Does this mean solar is a poor value? Not at all. Homeowners who install a solar array designed around them and their home get to reap the benefits of monthly energy savings and federal and local incentives for the entire life of the system. Also when the time comes to move to a different home, the new homeowners will still benefit greatly benefit from that system for the life of its system.
For more helpful tips and information about all things solar, Tap Here