An Ultimate Guide to Solar Panels in Iowa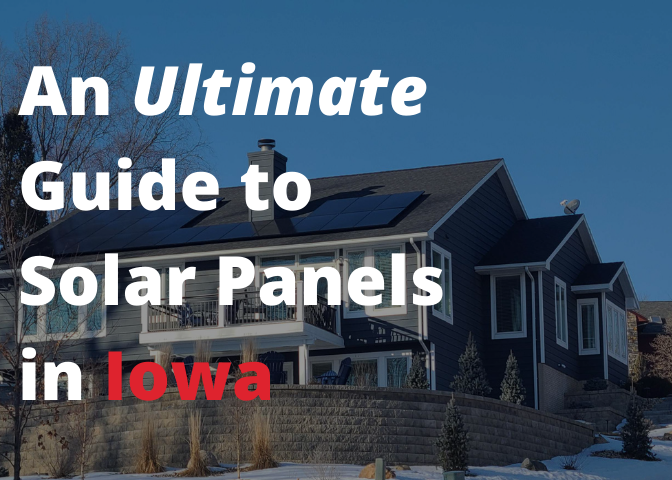 The solar capacity within the state of Iowa grew 32 percent from 2014 to 2015, placing it as a leader in solar power in midwestern states. There is an estimated 45 MQ of solar panels in Iowa.
With so many benefits homeowners and business owners are starting to see from solar, it makes sense that we are seeing such massive growth in the industry.
This is what we are going to talk about today in this article. We're going to cover everything you need to know about solar power and solar panels. The many benefits they offer and why we continue to see more and more individual uses.
Let's get started!
What Are Solar Panels & How Do They Work?
To start off our ultimate guide to solar panels, let's first cover what solar panels are and how do they work. Solar panels are essentially small devices made up of photovoltaic cells. These PV cells convert sunlight into electrical energy that can be used to power your home or business.
The way it works is when the sun shines on the solar panels, the PV cells create an electric field. This electric field pulls electrons away from the metal plates within the cell. This creates a flow of electricity and voila, you have solar power!
Solar Panels & Their Differences
Solar panels come in all shapes and sizes. More often than not, when people hear solar panels, they think about a 5x3 panel on someone's roof. However, they can be much larger and smaller depending on their uses.
It's not just about the size though, it's more about the wattage. What all solar panels have in common is that they are made to create a certain max amount of watts. These usually range between 100-600 watts. So a 250-watt panel is much more powerful than a 100-watt panel.
The reason for this is that the 250-watt panel will be able to create more power per square foot than the 100-watt panel. This means that you will be able to generate more solar energy from a 250-watt panel than you would from a 100-watt panel.
When shopping for solar panels, it's important to consider how many watts your system will need. You want to make sure that you are purchasing panels that have enough power to meet your needs.
Solar In Iowa
Now that we've covered some of the basics about solar panels, let's get a bit more specific and talk about solar in Iowa. Solar can benefit people more or less depending on the states that they live in, so it's important to look at everything related to solar specifically in your state.
So, let's take a look!
Solar Power Growth In Iowa
As we already mentioned at the beginning of this article, the growth of solar has continued to rise in the state of Iowa.
When we mentioned that Iowa was one of the leading solar states in the midwest, we weren't kidding. According to the Solar Energy Industries Association, there are 44 megawatts of energy in the state of Iowa. This provides enough solar power to essentially power over five thousand homes each year.
In addition, Iowa has a long tradition of producing solar energy. In 2016, $27 million was invested in solar installations in the state, which employs more than 500 individuals and supports more than 50 solar firms.
How Much Do Solar Panels Cost In Iowa
After taking into account the 26 percent federal solar tax credit (we will talk a bit more about this soon), the average cost of a residential solar system in Iowa is $11,238.
This is equivalent to the average solar panel in Iowa cost around $2.53 per watt. Solar costs, on the other hand, vary across Iowa's counties. Solar panel installation costs in Iowa may differ depending on where you reside.
It's worth noting, however, that this information was gathered in 2016 and that the average price has continued to drop since then. With this information in mind, it's critical to shop around and receive multiple quotations before selecting a solar installer.
We must become reliant on clean, renewable energy to prevent the world's climate from deteriorating. We need to end our addiction to fossil fuels and power the world with renewables in order to address our global warming problem.
Given how pricey solar and wind installation were a decade ago, it may have appeared implausible then, but the cost of renewables has been plummeting fast. With the above costs in mind, it's important to note that in ten years, the cost of solar has dropped by 89 percent, while that of onshore wind fell by 70 percent.
Solar Policies & Incentives In Iowa
Now that we've covered the costs, you should know that there are many options for residents of Iowa to take advantage of in order to reduce costs. No, we're not talking about coupons, but rather policies, incentives, and tax credits that can help people reduce their solar costs even further.
Alternate Energy Loan Program
Low-interest loans are offered in Iowa to individuals and groups to finance renewable energy installations, such as solar photovoltaic systems. Loans range from 0 percent interest rate up to $1 million.
This type of loan can help you get the money you need for your residential solar panels in Iowa.
Iowa Solar Policies
There are two policies that you'll want to be aware of in Iowa. These are the Solar Easements and the Solar Interconnection Standards.
Solar Easements: Iowa's property code allows for use of solar energy systems, and it also gives local governments the authority to prohibit homeowners' associations from restricting solar collection systems. Easements may be established by the owner or through the city government.
Interconnection Standards: The Iowa Utility Board is in charge of and sets utility prices throughout the state. Interconnection applications are broken down into four categories based on size and usage. All facilities must show proof of insurance, while utilities have the option to demand a manual disconnecting mechanism.
Essentially, it's important to know your local policies before you try to install solar panels on your home or your business. Read through these and ensure that you have everything you need to install your solar system.
You can also speak with local solar panel companies in Iowa and they'll be able to cover these policies and much more.
Solar Exemptions In Iowa
For tax purposes, exemptions allow home and business owners to subtract the value of their solar system from the assessed value of their property. This can greatly reduce costs and essentially put money back into your pocket.
There are many exceptions available out there for solar, but we'll cover two of the most important ones in Iowa.
Renewable Energy Equipment Exemption: Solar energy equipment that is used to collect and convert sunlight into power or that changes the energy from one form to another, such as solar photovoltaic panels and inverters, are not taxed in Iowa.
Property Tax Exemption: Solar photovoltaic installations are exempt from property taxes for five years after installation, in which case the market value added to a home or business by solar photovoltaics is not taxed. System use or storage of electricity generated on-site is allowed.
Solar Tax Credits In Iowa
Lastly, you can take advantage of tax credits as well. These solar tax credits can be awarded to you when you go to file your taxes after you've installed your system. You'll essentially be able to write off costs!
Solar Energy System Tax Credit: Solar panel owners may receive a tax credit of up to $5,000 or half of the federal tax credit for energy-efficient properties after installation. The tax credit available for installations that occur after January 1, 2016, is equal to 50 percent of the federal credit up to $20,000.
Federal Solar Tax Credit: In addition to that, there is the federal solar tax credit that anyone in the U.S. can take advantage of! The Federal Tax Credit can save you an average of 26 percent after you have installed a new system!
Benefits Of Solar Panels In Iowa
There are many benefits of installing solar panels for your home or your business. The benefits of solar panels are numerous. Some of the most notable benefits include:
No Maintenance Costs
After your installation has been complete, there is virtually no maintenance that costs you'll need to worry about. You can have your solar inspected from time to time but this will be rarely needed.
The only maintenance needed will be to clean your solar panels when they collect dust or snow.
No Noise Pollution
Another great benefit of solar panels is that they produce no noise. This means that you'll be able to generate power without any sound pollution.
This is great for those who live in residential areas and don't want the extra noise coming from their solar panels.
Installation Is Simple
Installing solar panels is a very simple process. A residential solar home installation is not typically DIY, so you'll need a professional solar company to come out and do it for you. They make the process easy and quick.
Good For The Environment
Solar energy is a great way to help out the environment. By installing solar panels, you'll be reducing your reliance on fossil fuels and helping reduce your carbon footprint.
Monetary Savings
One of the best reasons to install solar panels is because you can save a lot of money in the long run. Solar panel installations have become more and more affordable, so it's a great investment to make.
Not only are solar panels much more affordable, but they'll also save you in energy costs by reducing your utility bills. The average home can save between $10,000 and $30,000 over the lifetime of a solar panel system.
Are Solar Panels In Iowa Worth It
Now that you know about the policies and solar tax credits available to you in Iowa, the costs, and the many benefits of solar, you may be asking yourself: "are solar panels in Iowa worth it?"
The answer is a resounding yes for most Iowans! This is why we have seen such massive growth in solar systems in the state. Not only do solar panels offer homeowners and businesses an immediate return on investment, but they also provide long-term savings.
In addition, installing solar panels helps reduce greenhouse gas emissions and can help increase the value of your home or business. With all of these benefits, it's no wonder that solar is such a popular choice for renewable energy.
Finding A Solar Company In Iowa
Now that you know all about solar, it's time to find a solar company in Iowa to help you get started. Solar companies can assist with the entire process, from system design to the complete installation.
It's important that you do some research to find the best company for the job. You want to ensure that they are a reputable and proven company with years of experience.
If you're looking for a reliable and experienced solar company in Iowa, look no further than Skyline Solar. They have been helping Iowans go solar for years and are dedicated to providing quality customer service.
Solar Panels In Iowa
Solar panels are a great investment for homeowners and businesses in Iowa. Not only do they offer an immediate return on investment, but they also provide long-term savings.
Solar companies in Iowa can assist with the entire process, from system design to the complete installation, making the whole process easy for you.
It's important that you do some research to find the best company for the job though. Skyline Solar is a reliable and experienced solar company in Iowa that has been helping Iowans go solar for years. If you have further questions about solar panels in Iowa or if you're ready to go green, give us a call!