Your checklist to going solar.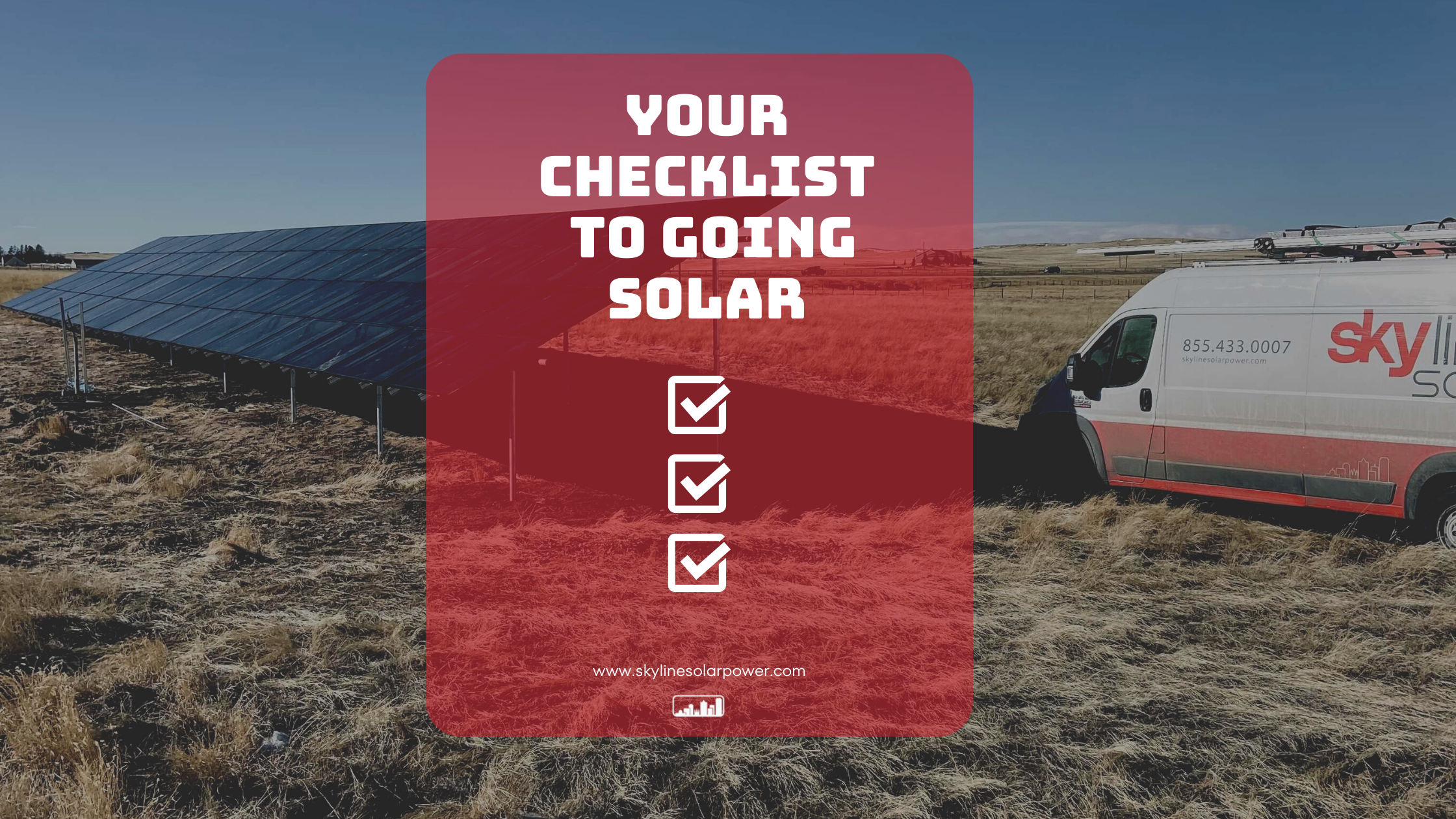 Home solar technology has exploded in recent years. Once upon a time solar panels were few and far between or limited to off the grid cabins. Photovoltaic (PV) equipment becomes more efficient while simultaneously becoming less expensive.
The solar industry has also evolved. There are now ways to reap the benefits of solar at almost any budget. Even without a massive influx of cash or down payment, you can lower your monthly cost while increasing the value of your home.
By now you may be wondering, "This sounds great, but how do I know if it's the right move for my home?" Below you'll find a checklist of a few things you should consider and do before putting solar on your property. This will help you be a more informed homeowner and reap the most value from a solar provider when you enter into discussions with them.
Do you own your home?
Unfortunately, renters cannot permanently install solar on property they do not own. Landlords can certainly have solar installed on their rental properties. In fact, it can amount to be a win-win for both the renter and landlord in which both parties receive a financial benefit as opposed to solely using power from the grid.
Is your home in abundant shade
Everybody loves a beautiful shade tree by their home as long as it's healthy and doesn't interfere with the structure of the home. Homes that receive significant shade for much of the day may not be able to receive enough sunlight for solar panels to be practical. There are other options including a "ground mount system" (more on that later) and an energy expert can help determine whether the amount of shade on your home is enough to disqualify you.
On the subject of shade, one myth about solar panels is that they cannot collect energy from the sun during times of cloud cover. While the most optimal condition for solar is direct sunlight, panels do work quite well in overcast conditions.
Why do you want to go solar?
Perhaps you already know why you want to go solar and it's what led you to our blog in the first place, but believe it or not people explore solar for a variety of reasons. Usually they boil down to a combination of three reasons:
Reduce their monthly costs
Make a long term investment in their home
Reduce their carbon footprint.
Knowing your primary motivation will help determine which way to lean when it comes to designing your system. If you wish to help the environment, perhaps you opt for a more expensive system that produces more clean energy, or perhaps you have a system that is much more affordable, but only offsets about 90% of your energy.
What is the condition of your roof?
Take a moment to consider the condition of your roof. How old is it? Asphalt roofs are expected to last around 20 years however conditions may have aged it faster than originally anticipated. From the safety of the ground, give your roof a visual inspection. If you see shingles broken or curling up, it may be reaching the end of its life and be in need of replacement. Most solar companies will not install solar panels on a roof that is within a few years of needing replacement.
Fortunately, an old roof is not a disqualifier for getting solar. Many people will lump the installation of a new roof into their solar project. In some cases, this will allow you to include the cost of the new roof in the solar tax credit which, as of 2021, will return 26% of the cost of the entire project back to you.
There is also the option of not using the roof at all. As already mentioned, we often do ground mounts. We mount the solar panels on a frame and connect it to your home via underground cables. This can be a solution for many cases where the roof is not a practical option.
How much energy do you use?
At Skyline Solar, we build each solar project 100% custom to the home and home owner. This not only means adapting to the size, shape and orientation of the roof (if we use the roof at all) but also ensuring that it will meet the needs of the people inside. People have different appliances which require different amounts of power while in use, they also have different power usage habits. People like their homes at different temperatures or maybe have several high powered computers that run much of the time.
Take a moment to get a report of your power usage for the last 12 months, or your usage since you moved into your home if you have not lived there a full year. You can often get this from your power bill. You should also be able to get it from your power company over the phone or via email. This will give an energy specialist a clear picture of what type of system you need in order to reap the maximum benefits of solar.
Find a company you can trust.
Now that you've gone through this checklist, you're ready to start working with a dedicated solar company. They will have the expertise and experience to get it done correctly and efficiently. If you have friends or family with solar already, that can be a good starting point to find a company that will provide you with a quality customer experience.
At Skyline Solar, we believe we are the best solar company out there. We keep every aspect of the project in-house, you'll always know who you're working with. We also maintain local crews in the areas we serve so every system we install receives unparalleled support. We only use the highest quality equipment and materials.
For more helpful tips and information about all things solar, Tap Here